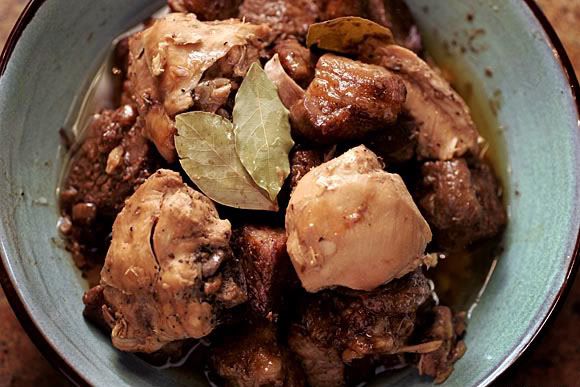 (Image Source: www.unalux.com)
Time and again, I have been told that it's the easiest Filipino dish to cook, but, somehow, I always managed to get something wrong. Either it turns out to be too salty (too much soy sauce) or too acidic (the vinegar didn't cook thoroughly). There is of course, the Mama Sita mix, but resorting to it is a lame cop out. I was determined to conquer this dish, and this time, I may have gotten it right.
Place one and a half pounds of cut chicken thighs in a pot. Throw in crushed garlic, bay leaves, and corn pepper. Add half a cup, each, of coconut vinegar and soy sauce, and one cup of water. Turn the stove heat to high until the pot boils, then lower the heat setting to medium-low, and slow cook the meat for one and a half hours. When the meat is tender, throw onions on top (I like them cut into strips) and let these just cook in the steam of the broth. That's it. It was really that simple. This is, of course, the Tagalog version of the dish that my paternal grandmother used to prepare. It has the oily broth/sauce (sabaw) that we had loved soaking our jasmine rice in. In Visayas, on my maternal grandmother's side, they like their adobo dry (tuyo)–they let the broth reduce, then fry the meat to a crisp (chopped into smaller portions) in the remainder of its oil.
Some recipes call for sautéing the meat or marinating it before cooking in soy sauce/vinegar. There is no need for either, as slow cooking will brown the meat and infuse it flavor. You will spend the same time, but with more effort if you sauté/marinate. There is also no need to use cooking oil–if you want it healthier–as the fat of the chicken (or pork) is sufficient to give it the greasy texture that makes it go well with rice.
There are several ways to vamp up this dish. First, you can substitute part of the soy sauce with kecap manis, the Indonesian version that is thick and sweet. I've also tried adding star anise to give a Chinese twist to the flavor; it would taste more like pata tim, another Filipino dish. You have to be careful with the star anise though–it has a very powerful licorice flavor, and one piece is enough! Portabella mushrooms–used as substitute for meat patties in vegetarian burgers–also agree well with the savory flavors of adobo. I would put it in at the last half hour so it can soak up the cooked juices. Between the garlic, the bay leaves, and the star anise, the adobo can become a little too heavy and pungent. You can reduce the spices, or offset these by adding a little lightness with a quarter-cup dash of white wine at the end. Voilà! Bon appétit!