The Libraries & Labyrinths of Jorge Luis Borges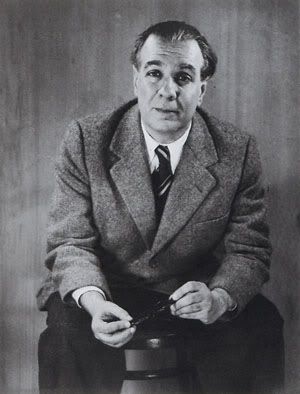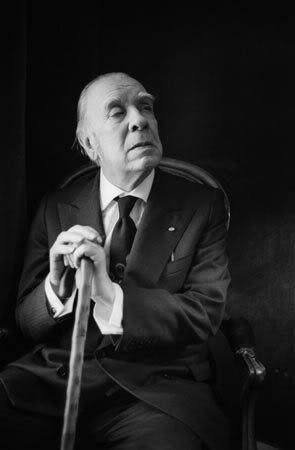 A man sets out to draw the world. As the years go by, he peoples a space with images of provinces, kingdoms, mountains, bays, ships, islands, fishes, rooms, instruments, stars, horses, and individuals. A short time before he dies, he discovers that the patient labyrinth of lines traces the lineaments of his own face.
~Afterword to El hacedor, 1960

I have always imagined that Paradise will be a kind of library.
~Pierre Menard, Author of Don Quixote

There is no intellectual exercise which is not ultimately useless.
~Poema de los Dones, from El Hacedor
Tlön, Uqbar, Orbis Tertius
… In September of 1937 (we were not at the hotel), Herbert Ashe died of a ruptured aneurysm. A few days before, he had received a sealed and certified package from Brazil. It was a book in large octavo. Ashe left it at the bar, where–months later–I found it. I began to leaf through it and experienced an astonished and airy feeling of vertigo which I shall not describe, for this is not the story of my emotions but of Uqbar and Tlön and Orbis Tertius. On one of the nights of Islam called the Night of Nights, the secret doors of heaven open wide and the water in the jars becomes sweeter; if those doors opened, I would not feel what I felt that afternoon. The book was written in English and contained 1001 pages. On the yellow leather back I read these curious words which were repeated on the title page: A First Encyclopedia of Tlön. Vol. XI. Hlaer to Jangr. There was no indication of date or place. On the first page and on a leaf of silk paper that covered on of the color plates there was stamped a blue oval with this inscription: Orbis Tertius. Two years before I had discovered, in a volume of a certain pirated encyclopedia, a superficial description of a nonexistent country; now chance afforded me something more precious and arduous. Now I held in my hands a vast methodical fragment of an unknown planet's entire history, with its architecture and its playing cards, with the dread of its mythologies and the murmur of its languages, with its emperors and its seas, with its minerals and its birds and its fish, with its algebra and its fire, with its theological and metaphysical controversy. And all of it articulated, coherent, with no visible doctrinal intent or tone of parody.
In the "Eleventh Volume" which I have mentioned, there are allusions to preceding and succeeding volumes. In an article in the N. R. F. which is now classic, Nestor Ibarra has denied the existence of those companion volumes; Ezequiel Martinez Estrada and Drieu La Rochelle have refuted that doubt, perhaps victoriously. The fact is that up to now the most diligent inquiries have been fruitless. In vain we have upended the libraries of the two Americas and of Europe. Alfonso Reyes, tired of these subordinate sleuthing procedures, proposes that we should all undertake the task of reconstructing the many and weighty tomes that are lacking: ex ungue leonem. He calculates, half in earnest and half jokingly, that a generation of tlonistas should be sufficient. This venturesome computation brings us back to the fundamental problem: Who are the inventors of Tlön? The plural is inevitable, because the hypothesis of a lone inventor – an infinite Leibniz laboring away darkly and modestly – has been unanimously discounted. It is conjectured that this brave new world is the work of a secret society of astronomers, biologists, engineers, metaphysicians, poets, chemists, algebraists, moralists, painters, geometers… directed by an obscure man of genius. Individuals mastering these diverse disciplines are abundant, but not so those capable of inventiveness and less so those capable of subordinating that inventiveness to a rigorous and systematic plan. This plan is so vast that each writer's contribution is infinitesimal. At first it was believed that Tlön was a mere chaos, and irresponsible license of the imagination; now it is known that is a cosmos and that the intimate laws which govern it have been formulated, at least provisionally. Let it suffice for me to recall that the apparent contradictions of the Eleventh Volume are the fundamental basis for the proof that the other volumes exist, so lucid and exact is the order observed in it. The popular magazines, with pardonable excess, have spread news of the zoology and topography of Tlön; I think its transparent tiger and towers of blood perhaps do not merit the continued attention of all men. I shall venture to request a few minutes to expound its concept of the universe…
Here I bring the personal part of my narrative to a close. The rest is in the memory (if not in the hopes or fears) of all my readers. Let it suffice for me to recall or mention the following facts, with a mere brevity of words which the reflective recollection of all will enrich or amplify. Around 1944, a person doing research fro the newspaper The American (of Nashville, Tennessee) brought to light in a Memphis library the forty volumes of the First Encyclopedia of Tlön. Even today there is a controversy over whether this discovery was accidental or whether it was permitted by the directors of the still nebulous Orbis Tertius. The latter is most likely. Some of the incredible aspects of the Eleventh Volume (for example, the multiplication of the hronir) have been eliminated or attenuated in the Memphis copies; it is reasonable to imagine that these omissions follow the plan of exhibiting a world which is not too incompatible with the real world. The dissemination of objects from Tlön over different countries would complement this plan… (5) The fact is that the international press infinitely proclaimed the "find." Manuals, anthologies, summaries, literal versions, authorized re-editions and pirated editions of the Greatest Work of Man flooded and still flood the earth. Almost immediately, reality yielded on more than one account. The truth is that it longed to yield. Ten years ago any symmetry with a resemblance of order – dialectical materialism, anti-Semitism, Nazism – was sufficient to entrance the minds of men. How could one do other than submit to Tlön, to the minute and vast evidence of an orderly plant? It is useless to answer that reality is also orderly. Perhaps it is, but in accordance with divine laws – I translate: inhuman laws – which we never quite grasp. Tlön is surely a labyrinth, but it is a labyrinth devised by men, a labyrinth destined to be deciphered by men.
(Translation: James E. Irby)
The Fearful Sphere of Pascal
It may be that universal history is the history of a handful of metaphors. The purpose of this note will be to sketch a chapter of this history.
Six centuries before the Christian era, the rhapsodist Xenophanes of Colophon, wearied of the Homeric verses he recited from city to city, lashed out at the poets who attributed anthropomorphic traits to the gods, and offered the Greeks a single God, a god who was an eternal sphere. In the Timaeus of Plato we read that the sphere is the most perfect and most uniform figure, for all points of its surface are equidistant from its center; Olof Gigon (Ursprung der grechischen Philosophie, 183) understands Xenophanes to speak analogically: God is a spherical because that form is best–or least inadequate–to represent Divinity…
Universal history continued to unroll, the all-too-human gods whom Xenophanes had denounced were demoted to figures of poetic fiction, or to demons–although it was reported that one of them, Hermes Trismegistus, had dictated a variable number of books (42 according to Clement of Alexandria; 20,000 according to Hamblicus; 36,525 according to the priests of Thoth–who is also Hermes) in the pages of which are written all things. Fragments of this illusory library, compiled or concocted beginning in the third century, go to form what is called the Corpus Hermeticum; in one of these fragments, or in the Asclepius, which was also attributed to Trismegistus, the French theologian Allain de Lille (Alanus de Insulis) discovered at the end of the twelfth century, the following formula, which future ages would not forget: "God is an intelligible sphere, whose center is everywhere and whose circumference is nowhere."…
Dante's poem preserved the Ptolemaic astronomy which for 1,400 years reigned in the imagination of mankind. The earth occupies the center of the universe. It is an immobile sphere; around it circle nine concentric spheres. The first seven are "planetary" skies (the firmaments of the Moon, Mercury, Venus, the Sun, Mars, Jupiter, Saturn); the eighth, the firmament of the fixed stars; the ninth, the crystal firmament, which is also called the Primum mobile. This in turn is surrounded by the Empyrean, which is composed of light. All this elaborate apparatus of hallow, transparent and gyrating spheres (one system required 55 of them) had come to be an intellectual necessity; De hypothesibus motuum coelestium commentariolus is the timid title which Copernicus, denier of Aristotle placed at the head of the manuscript that transformed our vision of the cosmos…
… In the seventeenth century, humanity was cowed by a feeling of senescence… In that dispirited century, the absolute space which had inspired the hexameters of Lucretius, the absolute space which had meant liberation to Bruno, became a labyrinth and an abyss for Pascal. He abhorred the universe and would have liked to adore God; but God, for him, was less real than the abhorred universe. He deplored the fact that the firmament did not speak, and he compared our life with that of castaways on a desert island. He felt the incessant weight of the physical world, he experienced vertigo, fright of solitude, and he put his feelings into these words: "Nature is an infinite sphere, whose center is everywhere and whose circumference is nowhere." Thus do the words appear in the Brunschvicg text; but the critical edition published by Tourneur (Paris, 1941), which reproduces the crossed-out words and variations of the manuscript, reveals that Pascal started to write the word effroyable: "a fearful sphere, whose center is everywhere and whose cirumference is nowhere."
It may be that universal history is the history of the different intonations given a handful of metaphors.
(Translation: Anthony Kerrigan)
The Aleph

Left: Aleph; Right: M.C. Esher, Hand with Reflecting Sphere (1935), National Gallery of Canada
…He hesitated, then with that level, impersonal voice we reserve for confiding something intimate, he said that to finish the poem he could not get along without the house because down in the cellar there was an Aleph. He explained that an Aleph is one of the points in space that contains all other points.
"The Aleph?" I repeated.
"Yes, the only place on earth where all places are–seen from every angle, each standing clear, without any confusion or blending…"
…Then I saw the Aleph.
I arrive now at the ineffable core of my story. And here begins my despair as a writer. All language is a set of symbols whose use among its speakers assumes a shared past. How, then, can I translate into words the limitless Aleph, which my floundering mind can scarcely encompass? Mystics faced with the same problem, fall back on symbols: to signify the godhead, one Persian speaks of a bird that somehow is all birds; Alanus de Insulis, of a sphere whose center is everywhere and circumference nowhere; Ezekiel, of a four-faced angel who at one and the same time moves east and west, north and south. (Not in vain do I recall these inconceivable analogies; they bear some relation to the Aleph.) Perhaps the gods might grant me a similar metaphor, but then this account would become contaminated by literature, by fiction. Really, what I want to do is impossible, for any listing of an endless series is doomed to be infinitesimal. In that single gigantic instant I saw millions of acts both delightful and awful; not one of them amazed me more than the fact that all of them occupied the same point in space, without overlapping or transparency. What my eyes beheld was simultaneous, but what I shall write down will be successive, because language is successive. Nonetheless, I'll try to recollect what I can.
On the back part of the step, toward the right, I saw a small iridescent sphere of almost unbearable brilliance. At first I thought it was revolving; then I realized that this movement was an illusion created by the dizzying world it bounded. The Aleph's diameter was probably little more than an inch, but all space was there, actual and undiminished. Each thing (a mirror's face, let us say) was infinite things, since I distinctly saw it from every angle of the universe. I saw the teeming sea; I saw daybreak and nightfall; I saw the multitudes of America; I saw a silvery cobweb in the center of a black pyramid; I saw a splintered labyrinh (it was London); I saw close up, unending eyes watching themselves in me as in a mirror; I saw all the mirrors on earth and none of them reflected me; I saw in a backyard of Soler Street the same tiles that thirty years before I'd seen in the entrance of a house in Fray Bentos; I saw bunches of grapes, snow, tobacco, lodes of metal, steam; I saw convex equatorial deserts and each one of their grains of sand I saw a woman in Inverness whom I shall never forget; I saw her tangled hair, her tall figure, I saw the cancer in her breast; I saw a ring of baked mud in a sidewalk, where before there had been a tree; I saw a summer house in Adrogué and a cop of the first English translation of Pliny–Philemon's Holland's–and all at the same time saw each letter on each page (as a boy, I used to marvel that all the letters in a closed book did not get scrambled and lost overnight); I saw a sunset in Querétaro that seemed to reflect the color of a rose in Bengal; I saw my empty bedroom; I saw in a closet in Alkmaar a terrestrial globe between two mirrors that multiplied it endlessly; I saw horses with flowing manes on a shore of the Caspian Sea at dawn; I saw the delicate bone structure of a hand; I saw the survivors of a battle sending out picture postcards; I saw in a showcase in Mirzapur a pack of Spanish playing cards; I saw the slanting shadows of ferns on a greenhouse floor; I saw tigers, pistons, bison, tides, and armies; I saw all the ants on the planet; I saw a Persian astrolabe; I saw in the drawer of a writing table (and the handwriting made me tremble) unbelievable, obscene, detailed letters which Beatriz had written to Carlos Argentino; I saw a monument I worshiped in the Chacarita cemetery; I saw the rotted dust and bones that had once deliciously been Beatriz Viterbo; I saw the circulation of my own dark blood; I saw the coupling of love and the modification of death; I saw the Aleph from every point and angle, and in the Aleph I saw the earth and in the earth the Aleph and in the Aleph the earth; I saw my own face and my own bowels; I saw your face; and I felt dizzy and wept, for my eyes had seen that secret and conjectured object whose name is common to all men but to which no man has looked upon–the unimaginable universe.
I felt infinite wonder, infinite pity.
(Translation: Norman Thomas di Giovanni)